The Heartland Protocol Certificate Training
Perinatal Mental Health
What is Heartland?
Heartland PMAD Consultants, LLC exists to consult and train providers and practitioners in innovative, effective, wraparound methods to address perinatal mood and anxiety disorders. Through their proprietary Heartland Protocol, they work with healthcare foundations, hospitals, OBGYN and pediatric practices across the nation to help everyone—from the front desk professionals to the nursing staff to physicians and administrators—understand how the Heartland Protocol, when implemented correctly, can improve the health of perinatal women, enhance patient retention, and increase patient referrals.
Find out more about The Heartland Protocol here.

Why is Heartland Needed?
Perinatal Mood and Anxiety Disorders are defined as the full range or spectrum of emotional reactions, symptoms, and mental health disorders that occur during pregnancy and the postpartum period. One out of five women will experience a perinatal mood and anxiety disorder during pregnancy or after childbirth.
Untreated maternal depression is associated with negative outcomes for children including behavioral problems, cognitive or developmental delays, and impaired attachment. The Heartland Protocol for PMAD training is a person-centered approach to assessment, referral, and treatment that facilitates patient engagement, compliance, satisfaction, positive clinical outcomes, and retention.
Plus, it's required…
A 2015 committee opinion written by the American College of Obstetricians and Gynecologists recommended that all OBGYNs and other obstetric care providers complete a full assessment of mood and emotional wellbeing (including screening for postpartum depression and anxiety) with a validated instrument during the comprehensive postpartum visit for each patient. In 2016, the US Preventative Services Task Force changed its recommendation for routine depression screening in the general adult population including pregnancy and postpartum women. The American Academy of Pediatrics recommends integrating postpartum depression surveillance and screening at the 1-2-4- and 6-month visits.
How Can Heartland Benefit Your Practice?
Heartland goes beyond the typical PMAD trainings that only focus on education and assessment by teaching providers skills that enable them to develop sustainable relationships with patients. Heartland trainings help to:
Develop and use empathy skills with patients to deliver more effective services
Differentiate between "normal" perinatal adjustment and clinically significant adjustments requiring further treatment
Educate about multiple treatment strategies and effective use of the team approach
Adopt a person-centered approach into your practice
Recognize and prevent compassion fatigue so you can continue to be empathetic and effective
Studies have shown that when physicians behave empathically, patients:
Express increased satisfaction
Trust their providers more
Better comply with referral and treatment plans
Experience improved clinical outcomes
File fewer malpractice claims
End up healthier
In this era of value-based (vs volume-based) healthcare, empathic, wraparound care is essential for a successful and lucrative practice.
Who created Heartland?
As experts in perinatal mental health, Kim Martino-Sexton and Elizabeth Stallone-Lowder are committed to supporting all moms everywhere by encouraging a person-centered, empathic, and inclusive approach to treatment. They provide coordinated, multi-disciplinary trainings and consultative engagements customized for each audience. Having worked for the healthcare systems and advocated for moms, we know how it works—and it works best when we all work together.
Elizabeth Stallone-Lowder, MSW, LCSW
Elizabeth founded Sage Tree Therapy, LLC, a private therapy practice specializing in perinatal mood disorders and birth & pregnancy trauma, in 2012 to serve pregnant women on bedrest with individual at-home therapy and has expanded over the years. She has worked in the field of women's trauma since 1996 as the director of a shelter for intimate partner violence, a patient advocate for adults with HIV/AIDS, a trauma therapist for women and girls affected by chronic abuse/neglect and sexual violence, and is DONA Doula trained. She has written original curriculum and facilitated therapy support groups on topics related to PTSD, trauma recovery, and motherhood. She started a teen therapy in-school program for Safe Connections in St. Louis, clinically supervises MSW students in practicum and LMSWs working towards licensure. She once served as the Victim Advocate for the Boone County Prosecutor's office and Columbia Police Department with the DOVE Unit.
Elizabeth earned her BSW from the University of Missouri, Columbia and an MSW from Saint Louis University with a specialty in Sexual Health Education. She is trained in EMDR, trauma-focused cognitive behavioral therapy, dream interpretations, sex therapy, and expressive visual art therapy. She serves as adjunct faculty at the Brown School of Social Work at Washington University and on the Executive Board of the Hyperemesis Education and Research Foundation.
Kim Martino-Sexton, NFC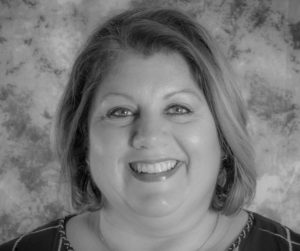 Kim has been serving perinatal women for 23 years as a childbirth educator, birth and postpartum doula, and perinatal mental health peer specialist. Besides being the Co-Founder/Co-Owner of Heartland PMAD Consultants she is the Senior Community Outreach Coordinator at SSM St. Mary's. In this position, Kim is responsible for The MOMS Line Programs which includes recruiting, training, and managing over seventy volunteers that provide peer telephone support and peer led group support for perinatal women in the St. Louis Metro Area.
Kim's first passion of educating expectant families continues to be one her top priorities. She can be found most Monday nights teaching Calm Confident Childbirth, her proprietary birth education curriculum which includes the following topics; physiologic birth, evidence-based practices related to labor and delivery, parental wellbeing, relaxation, and mindfulness.
Kim also serves as the Secretary of the Wise Women Council at Jamaa Birth Village—Missouri's first equal access midwifery care center.

The Heartland Protocol

H.E.A.R.T.
Hear
Postpartum depression and anxiety are the most frequent complications of childbirth; 90% of new mothers will have scary intrusive thoughts about their baby and themselves. We train how to hear, which means:
Adopting a person-centered mindset
Understanding containment skills
Providing a safe space for whatever the other person needs to say
Sincerely and authentically normalizing and validating the thoughts and feelings of the other person
Holding space by actively listening and listening to understand
Assess
Postpartum clinical condition's affect 1 in 78 new moms and 1 in 5 women will experience a mental health or substance abuse disorder in pregnancy or postpartum. We go beyond paper assessments and dive into how you could be delivering and analyzing those assessments more effectively. We train on:
How to screen for risk factors and current symptoms
How expectations about parenting and motherhood can increase the likelihood of perinatal mood or anxiety disorder (pmad)
Evaluating prior mental health history
Properly identifying

Sleep issues
Eating issues
Trauma
Stress
Constant worry
Racing, pervasive, and intrusive thoughts
Disturbances of sleep and appetitive
Dizziness, hot flashes, nausea
Changes to physical symptoms

What to include in the observation patient report and associated documentation
Empathize
Research shows that during medical school and residency, empathy declines. After years in practice, empathy declines even more. The good news? Empathy can be cultivated. Studies have shown that when physicians behave empathically, patients are more satisfied, trust them more, adhere better to treatment recommendations, file fewer malpractice claims, and end up healthier. We train on the attributes of empathy, including:
Perspective taking
Staying out of judgment
Recognizing the emotion
Communication
Refer
It takes a village to build a community of champions for our moms—and extends beyond a list of psychologists and psychiatrists. Our trainings cover:
How to build a community of support for your moms
How to communicate about the resources to mom in a safe way
Questions to ask to select referral sources
Community connections and champions
Touch Base
The American Academy of Pediatrics recommends touching base with the mom at every baby well visit through 6 months. We recommend someone check in with a mom every time she sees a healthcare provider. Strategic tweaks to follow-up will result in big differences to the success of a practice!
During our trainings, we discuss what real follow-up looks like:
Ensuring coordinated community responses and follow-up care
Developing a system with resources to provide wraparound care for mom
Office calls, peer support, how might this look for your practice
Interested in learning more or bringing Heartland in to train at your organization or practice?
Please contact us!
Need to reach someone immediately?
Call us 314-252-0235